Moving to another state: Almost 600,000 Americans moved from the Midwest and Northeast to the Sun Belt states last year, the most since 2005
"There's been a renewed push of people moving to the Sun Belt," said IHS Markit economist Karl Kuykendall. "The 2009 recession slowed it down because of the housing slump and severely hurt resident mobility. More people are back to moving south and west for better jobs, and there is retiree migration as well."
Retirement centers Myrtle Beach, South Carolina, and The Villages near Orlando were the fastest growing metro areas in the U.S. in the year ended July 1, while a flow of younger workers have led to employment booms in Florida, Georgia and Nevada, all growing at almost twice the rate of the nation.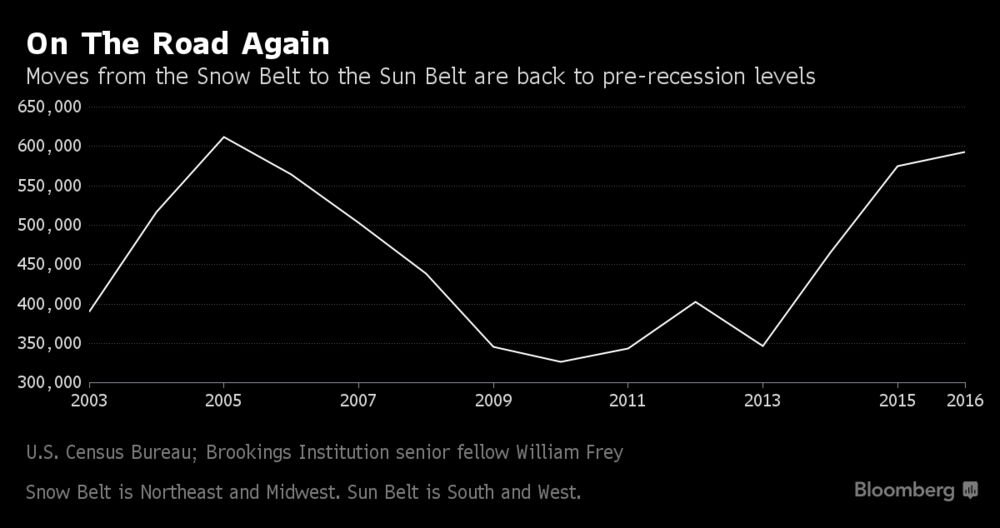 Florida added 207,155 people in 2016, or almost 600 people a day. By contrast, New York, Illinois and California each lost more than 100,000 people.
Kasia Galazka, 31, got hired in December for a marketing job in Atlanta by MailChimp, an email marketing company. Kasia says she likes Atlanta's "big city" feel, with lots of new restaurants. The other part? Lower costs.
Costs are always a factor in any moving decision. And City vs City can help!
What is City vs City?
Before moving to another state in the Sun Belt, it would be wise to obtain the most precise comparison possible by comparing the costs with your current home. Download the City Vs City app to get started now!
Continue reading the article here.