If you're looking for blockchain jobs, these cities have you covered!
One major consideration when choosing where to live is the availability of jobs. Whatever your chosen profession, it would be silly to pick up and move without knowing if there will be work waiting when you get there. When it comes to advanced technology, there are many locations to choose from.
Seattle, Austin, and Denver all feature bustling technology hubs. San Francisco and the rest of Silicon Valley isn't too shabby either. One major advancement in technology has been the rise of blockchain technology. Most often associated with bitcoin, blockchain is an innovative digital ledger in which transactions are recorded chronologically and publicly.
Confused? Maybe this infographic can explain it in simple terms: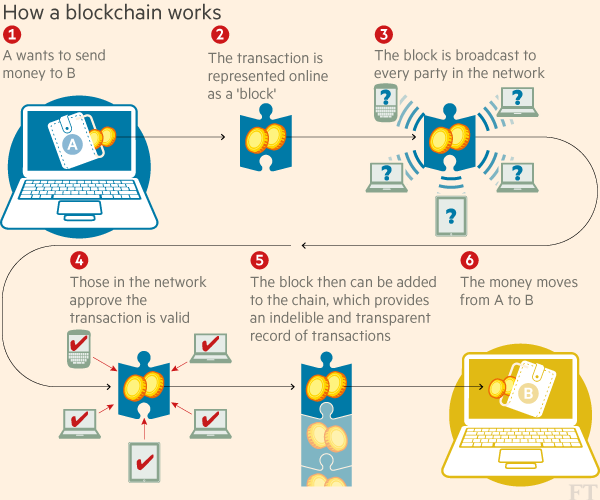 However, blockchain jobs in this USA aren't all about bitcoin and crypto. The technology is being applied in other industries and some experts think it may be the next big thing. If you're searching for a way in, these cities are offering the best opportunities.
Best Cities For Blockchain Jobs in the USA
New York
San Francisco
Boston
Chicago
Palo Alto
Austin
San Jose
Atlanta
Raleigh
Los Angeles
Seattle
Denver
Washington, D.C.
Houston
Charlotte
List compiled by Forbes. See the rest of the article here.
Of the cities listed, many have an increasingly high cost of living. New York, San Francisco, DC, Seattle, Los Angeles, and others are seen as high cost states. Some of these states have high taxes while others are seeing skyrocketing home prices.
However, there is opportunity to be had. Charlotte, Austin, Raleigh, and a few other cities are some of the best cities to live in America. In fact, Charlotte was named one of the most affordable cities in the country! 
If you're looking for a mixture of available blockchain jobs in the USA and relatively good cost of living: Charlotte, North Carolina may be the place for you! How will you know? By downloading the City vs City app of course!
City vs City is a powerful cost of living tool that helps determine the true cost of living in your city. We examine costs at the zip code level and factor in such variables as after-tax income, housing expenses, transportation costs, state and local taxes, and more.
Is Charlotte the right city for you? Input your information and see a side by side comparison of Charlotte vs your current city. As a result, you'll know which city offers you a better cost of living arrangement? There's only one way to tell:
Download the City vs City App today and start comparing!