Today in cost of living news, Americans are more rent-burdened than ever according to a new Pew Research study. 
Renters who pay 30% or more of their pre-tax income on housing are considered "rent burdened." The number of rent burdened households has increased over the last ten years.
Since 2001, the share of homes defined as "rent burdened" has ballooned, according to Pew.
In 2015, 38 percent of all "renter households" were rent burdened, an increase of about 19 percent from 2001.

The share of renter households that were severely rent burdened—spending 50 percent or more of monthly income on rent—increased by 42 percent between 2001 and 2015, to 17 percent.
What Gives?
The Pew study includes "the great recession." During the 2008 economic crisis, the housing market was severely impacted. As a result, people are shying away from home ownership in favor of renting.
While the real estate markets are better nation-wide, some areas still have not recovered to pre-recession levels. This, combined with rising home prices in some markets has pushed more individuals towards renting their home/apartment rather than buying.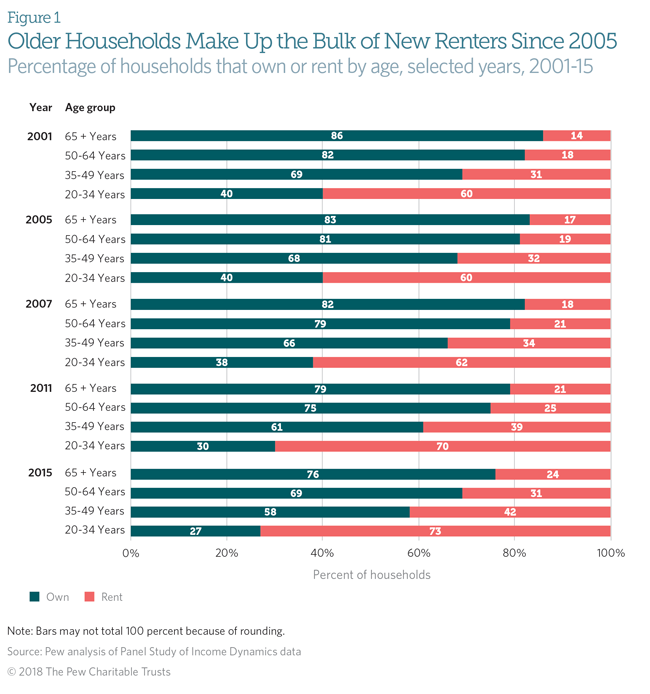 With more individuals renting, a natural increase among rent-burdened households is not unusual. With more renters than buyers, more rent-burdened households unfortunately come with the territory.
Cost of Living Woes
On the other hand, the increase in rent doesn't tell the whole story of the economic hardships facing many Americans. In other cost of living news, home and rent prices are outpacing wage growth.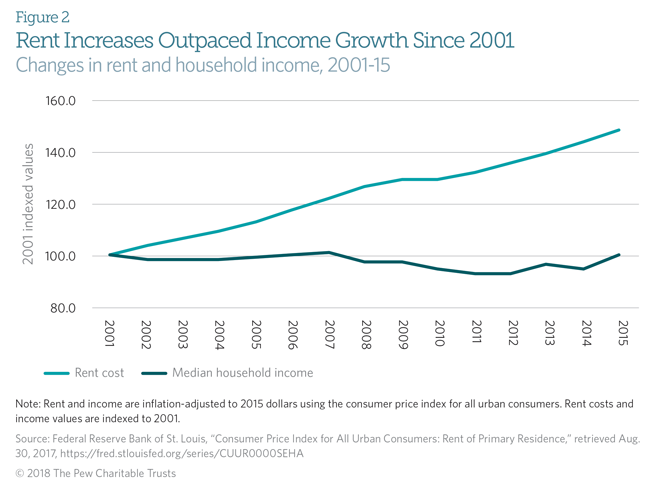 Since 2001, the gap between housing costs and earnings has only gotten wider. In some cases, it's unbearable. According to the Pew study:
In the aftermath of the 2007-09 downturn, households that rent have been slower to transition to homeownership than they were before the recession and housing crisis. Many families struggle to save enough for a down payment or lack a sufficiently strong credit profile to meet the stringent underwriting standards that were put in place in the wake of the crisis. But some renters—even with down payment assistance programs— simply cannot afford the monthly payments for homes that in many areas are commanding prices near those of the 2007 market peak.
Resident Exodus?
Due to the widening gap, it's no surprise that some high-cost areas such as New York, San Francisco, Connecticut, and Illinois are seeing citizens flee at an alarming rate. Taxes and housing costs are key causes of this exodus.
High housing costs are driving individuals away in search of a better living situation. If you're considering moving to avoid the high cost of living in your area, City vs City can help. City vs City's powerful app uses real, local data to determine the cost of living in your current city.
City vs City was created to answer the question: how much money do you need to live in another city without altering your standard of living? In short, you know what you make NOW. What if you moved somewhere else? Would your current income be able to cover your costs? Would you wind up with more? Less?
Using City vs City, you can compare your city with another city of your choosing. Input your data and watch as City vs City's powerful technology compares those costs. As a result, you'll see a side by side comparison of the cost of living in your chosen cities.
Check below for a demonstration:
City vs City allows you to see how your costs would change in a different city. Download City vs City today and start comparing!  And don't forget to follow our blog for more Cost of living News.